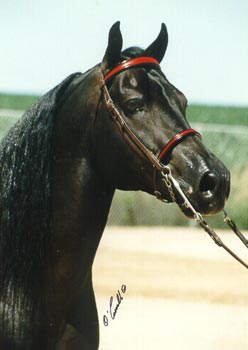 ur breeding program was not complete until we added a stallion to breed to our CKH daughters. We found this gorgeous colt at the Lippitt Country Show in Vermont. He was being shown in the Colt Weanling Class by Barry Caisse for Grace Yaglou of Honee Do Farm. He won that class, and continued to win almost every class from then on. This dream come true stallion was Wachuset Black Hawk (Cantieglen Eclipse x Wachuset Lady Ash).

He was beautiful -- solid black, 15.1 hands, outstanding conformation, a beautiful head with large prominent black eyes almost hidden by his heavy long black mane and forelock. He was the Black Stallion, that people turned their heads to look at when he strutted by. He and his trainer performed at many special events and shows. Always the crowd pleaser. Black Hawk was very versatile and was shown as a western pleasure show horse, roping horse, cutting cows, and free style reining.

His first year at the Grand National and World Morgan Horse Show, he placed fourth in the free style reining class. Therefore, he was invited to show back and perform at the Saturday night grand finale ceremony. He won many blues and championships in hand and performance classes. At the Central Region Lippitt Show he won Grand Champion Stallion.



See more photos of Wachuset Blackhawk at the WACHUSET BLACKHAWK GALLERY page

We bred Black Hawk to Willo Pond Georgi Anna (CKH x Ashwood Georgi Girl) and this cross produced the filly we had worked and planned for -- Willo Pond Hawks Legacy (Lacy). I was glad that Paul was still here to share the birth of this special filly. When she foaled he stated that she would be our Grand Champion Mare. Paul was killed in a tragic accident in November 1997. But, Lacy did not let him down and became Grand Champion Mare at the WLMS 2002.

Black Hawk was rebred to Willo Pond Georgi Anna and produced Willo Pond Lady Ash Anna. He was bred to ASW Knight's Fantasia and produced Willo Pond Knight Hawk (Reserve Grand Champion Stallion WLMS). Black Hawk was bred to Willo Pond Darling Rose and produced Willo Pond Hawk's Finale.

Wachuset Black Hawk also has a beautiful Morab son, Jericho's Royal Storm Hawk (Wachuset Black Hawk x Jericho's Royal Ashlin). Storm Hawk is a golden buckskin with heavy black mane and tail. He is owned by Linda and Wendy Konichek and standing at Jericho Creek Farms.

It takes years of patient planning to finally reap the results of a planned breeding program. Unfortunately, Wachuset Black Hawk died an untimely death in March 2000.